The new quality assurance system IR-Thermo Control
Thermal process monitoring of injection molding in the synthetic materials industry through the newly developed quality assurance system
In cooperation with our partners GTT and PLEXPERT, B+B Thermo-Technik evolved the reliable qualiy assurance system for injection moulding processes, called IR-ThermoControl, with the especially for the plastics industry developed thermography system.  The especially evolved  software for immediate recognition if thermic defects prevents sustainable the production of scrap components.

The industrial thermo camera "Thermo-Cam" with usb interface in connection with operator software. IR-ThermoControl systems of the partners GTT and Plexpert GmbH are building the intelligent conditions to detect also least temperature deviation on the surface of the molded part.
Your advantages at a glance:
Better quality  due to immediate recognition of thermic defects
Complete process monitoring  with unbrokoen documentation
Better quality through immediate recognition of thermal errors
Complete Process monitoring with all-over documentation
Waste recognition through specific thermal error analysis
Thermic deviations will be detected online and directly transmitted to the system of the injection moulding machine. A continous documentation and graphic recording of the temperature profile per cycle takes part.

Recognition of molding parts, which are not completed, by thermography!
IR-ThermoControl recognizes during the performed measuring also  molding parts which are not completed. The system recognizes incorrect measurements and shows these as a clear peak on the graph.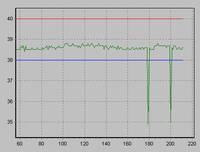 Amortisation < 4 months
uality assurance system of IR-ThermoControl amortizes within a very short space of time.
The most frequently unnecessary cost sinks in the injection molding process are a result of not controlled and instable processes. 60 – 80% of all molded part errors such as insufficient dimensional stability, default, insufficient surface quality, feathering, sink marks, strong fluctuating molded part quality as well as long cycle times are due to improper design and handling of the mould temperature control. No other technical unit support such pitiless thermal imperfections like the ThermoCam.
No other technical instrument than our thermocam brings thermical inadequacies so unforgiving to light.
Support with workshops and introducing support
Based on their long term experience and specialist expertise our partners GTT Willi Steinko GmbH and Plexpert GmbH support you on-site  with introducing-support or workshops  with the process optimization.
Rent before purchase!
Take advantage of our favourable rent-offers and check our system before purchase for proper operation. The resulting costs will charged with purchasing of the system.
Do not hestitate to contact us.
We are very pleased about your call.